Description
Size: 14.0-inch WideScreen (12″x7.4″) 
Resolution: WXGA (1366×768) HD 
Surface Type: Matte 
Backlight type: LED 
Video signal connector: 30 pin LED socket
[image]Mountings: Top and Bottom Brackets 
Condition: New Grade A+ 
Warranty: 3 Months
How to buy a right screen ?​
Please check:
1. laptop model and size.
2. LCD screen size and resolution.
3. Data connector Pins (20pin, 30pin,40pin,50pin) and position
4. LCD physical resolution pixels .
5. backlight type(LED or 1CCFL, 2 CCFL)
NOTE:
1. This item is a LCD screen , not a laptop.
2. One laptop model maybe has several screen models in different size, resolution.​
We specialize in laptop screens and have large stocks.  We provide an excellent level of customer service and we have many years experience in this industry. We have been dealing with laptop screens for over 8 years.
We purchase our screens from worldwide suppliers to bring you the highest quality panels at the very best prices. We only ship the best quality unlike some of our competitors.
To be sure what you are ordering is the right item, you can ask as many questions as you like. or just send the Laptop
Brand Name
and
Model number
.
Free Labour on fitting of replacement screen if you can ship the laptop at your own cost. Otherwise, we recommend removal of your old screen prior to ordering and sending us the Part Number. The part number will be on the back of the screen. Please see image to see how part number is identified.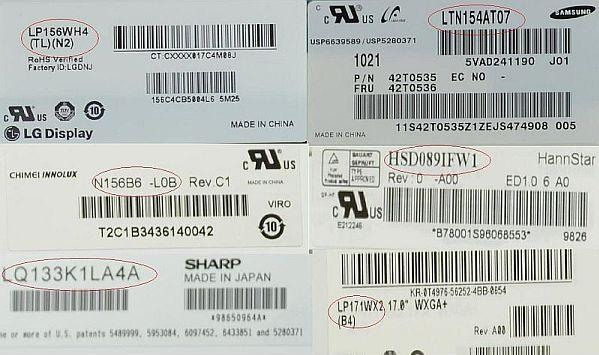 Warranty Policy:
Replacement warranty for DOA (Dead On Arrive) and all manufacturer defective such as line (vertical and horizontal line), fuzzy, & distorted image.
Shipping:
We ship items on the next business day after payment has been received to any corner of South Africa. Shipping rates depend on your location and courier service used. The item will be sent to you in a purposely designed packaging to ensure that it arrives in perfect condition. You can also pickup your item from our premises.
PLEASE NOTE: PRICE OF OTHER LAPTOP SCREEN SIZES MAY VARY.