Description
NEW 1600*900 17.3″ LAPTOP LED LCD SCREEN LTN173KT01-H01
Specifications:
Condition: Brand New (Grade A+)
Screen Size: 17.3″
Backlight: LED LCD
Resolution: 1600*900
Connector: 40 Pin Bottom Right as picture shown
Finish:Glossy/Matte(Depend On Stock)
Grade:A+
Aspect Ratio:16:9
Warranty: 6 months
Free Screen Replacement In Our Store. No Labour Charge! Just Book An Appointment. (We Charge R450 For Call Out)

Compatible Part Numbers
173-40CWLED1600L, B173RW01, B173RW01 V.3, LP173WD1-TLA1, LP173WD1-TLA3, LTN173KT01, LTN173KT02-801, LTN173KT03, N173FGE, N173O6-L02
Courier Shipping Fees
Courier to Jo'Burg/PTA (Sameday for orders B4 10h00)  = R70
SAPO Speed Services Counter to Counter Delivery = R120
Postnet to Postnet Addresses (3-5 working days) = R99

Townships

: Soweto/Thokoza/Shoshanguve/Mamelodi = R120
Witbank/Vareerniging/Capetown/Durban/PE/Krugersdorp = R130
Other Major Centers and Towns (Limpompo, George etc) = R190
Outlying Areas (Farms and areas away from city centers = R250
Special Same day Deliveries in Jo'Burg (Sat/Sun/After Hours ) = R400
International (Zim/Zambia/Mozambique/Botswana/Namibia) = Call 4 Rates! 
Package Included
1pcs x 17.3 " WXGA HD 40Pins LED Laptop Screen Panel
How to buy a right screen ?​
Please check:
1. laptop model and size.
2. LCD screen size and resolution.
3. Data connector Pins (20pin, 30pin,40pin,50pin) and position
4. LCD physical resolution pixels .
5. backlight type(LED or 1CCFL, 2 CCFL)
NOTE:
1. This item is a LCD screen , not a laptop.
2. One laptop model maybe has several screen models in different size, resolution.​
We purchase our screens from worldwide suppliers to bring you the highest quality panels at the very best prices. We only ship the best quality unlike some of our competitors.
To be sure what you are ordering is the right item, you can ask as many questions as you like. or just send the Laptop
Brand Name 
and
Model number
.
Free Labour on fitting of replacement screen if you can ship the laptop at your own cost. Otherwise, we recommend removal of your old screen prior to ordering and sending us the Part Number. The part number will be on the back of the screen. Please see image to see how part number is identified.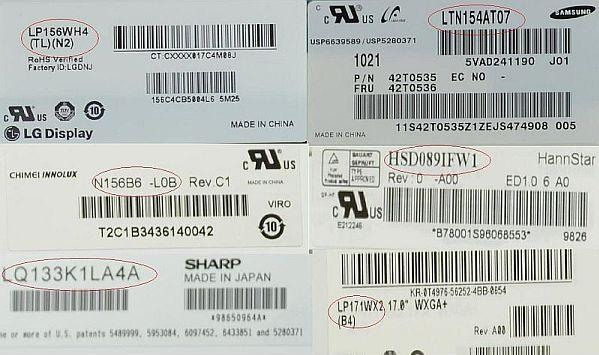 Warranty Policy:
Replacement warranty for DOA (Dead On Arrive) and all manufacturer defective such as line (vertical and horizontal line), fuzzy, & distorted image.
Shipping:
We ship items on the next business day after payment has been received to any corner of South Africa. Shipping rates depend on your location and courier service used. The item will be sent to you in a purposely designed packaging to ensure that it arrives in perfect condition. You can also pickup your item from our premises.
Examples Of Suitable Laptop Models
Acer ASPIRE

7250 7530 7535 7535G 7536ZG 7540 7730 7735 7736 7736G 7736Z 7738 7739 7739G 7750 7750G
Acer EMACHINES
G525 G625 G725
Acer TRAVELMATE
7750 7750G
ASUS
G72GX K70AB K72JR N70SV X70IC X900
Compaq PRESARIO
CQ71 CQ71-100 CQ71-105 CQ71-135 CQ71-140 CQ71-200 CQ71-314
Dell ALIENWARE
M17 M17XR3
Dell INSPIRON
17 1750 N7110
Dell STUDIO
1745 1747
Dell VOSTRO
V3750
Dell XPS
17 L702X
Gateway
NV78 NV7802 NV79 NV7901 NV7902 NV7906 NV7915 NV7921 NV7922 NV7923 NV7925
HP PAVILION
1251 1251SI DQH562 DV7 DV7-6050 DV7-6050EI DV7-6C50 DV7-6C50EI DV7-6C51 DV7-6C51-EI G7G7-1270 G7-135 G7-135SI G71 G71-329G71-333 G71-339 G71-340 G71-345 G71-347 G71T-300 QH562EA
HP PROBOOK
4410S 4730S
Mecer
W170HN W270 W270ESQ
Packard Bell EASYNOTE
MS2290
Proline
W270HU
Samsung
R720 R730 X900
Toshiba SATELLITE
C670 C670-11W L755 L755-14R L770 L770-12X